Happy summer! We hope you're enjoying some leisurely days and delicious picnics and BBQs with friends and family. While we've been between tasting rooms, we've been able to spend more time in our garden cultivating our next project (details below)-but now, with permits in hand, we're focused on construction of our new space.
RECENT PRESS
"Cartograph has an interesting and perhaps even eclectic winemaking style at play. The Gewürztraminer is a dry version of the varietal, which isn't often seen outside of the Alsace ...We mention all this simply to say that finding a dry Gewürztraminer isn't exactly an easy proposition even in the old world, let alone in California where it is virtually unheard of. The Pinot noir had a similar old world style. It was among the most Burgundian I have tasted in California. As you probably realize, crafting a true Burgundian Pinot in Sonoma isn't exactly the easiest task in the world."- Mark Alestine of Uncorked Ventures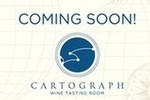 After we developed the footprint of our new tasting room with a local architect, we started demolition in mid-May: gutting the interior and peeling up 25-year-old carpet along with the top layer of the floor.
Blank slate revealed! Then we got to work on finishing up the design plans for the construction permits.
Because wine is considered a food, we needed the health department to approve our construction plans ... a process that took much longer than expected. Our project was officially blessed the second week of July, and we anticipate buildout will begin next week. We hope to open in late September.
The good news: we're fully permitted to pour wines in the tasting room now. If you'd like to visit, please let us know and we'll carve out a space to make it happen. We're at 340 Center St. in Healdsburg-half a block from the main plaza, next door to Zin Restaurant.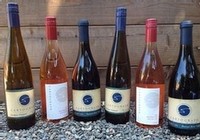 Our Summer Sipper Six-pack special highlights wines that pair with the great flavors of summer. You'll get 10% off the package-and we'll even cover the upgrade costs to ship your wine via temperature-controlled UPS. Circle members will get their discount on the Summer Sipper Six-Pack.
What you get:
2 bottles of the 2012 Russian River Valley Rosé of Pinot Noir: Bright, crisp, and refreshing
2 bottles of the 2012 Floodgate Vineyard Gewürztraminer: Bone dry, floral and fun
2 bottles of 2011 Russian River Valley Pinot Noir: Luscious! Grilled pork chops, anyone?
6 bottles for just $144! Use coupon code SummperSipper at checkout. Offer ends August 25.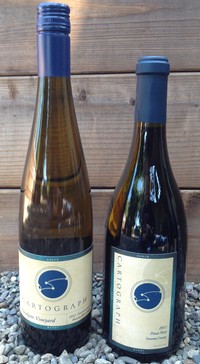 We're thrilled to annouce that two new wines are available online and will be part of our tasting room menu when we open. We can ship wines throughout the summer to most locations via UPS temerature-controlled shipping.
2012 Floodgate Vineyard Gewürztraminer, Russian River Valley
This gewürztraminer is truly unique in California - more notable for its subtlety and finesse than for being showy the way California gewürztraminers tend to be. Styled after the great dry gewürztraminers of Alsace, it shares many traits with those wines; it shows its grace initially in its sparkling pale-yellow color, while aromas of lemon, mandarin orange, and citrus blossom mix with less likely scents of wet slate and a slight hint of petrol.
On the palate, this wine presents a bit of a puzzle: bright and lively, it also possesses a lushness that would typically be associated with a wine having some residual sugar. However, this is a bone-dry wine, not your grandmother's sweet sipper. It's a great fit for warm-weather occasions that call for a light, refershing wine. And with the spices on the palate, it's also a good pairing with fall flavors and holiday meals-a perfect match for Thanksgiving turkey. 185 cases produced. Retail $24, Cartograph Circle $20.40
2011 Sonoma County Pinot Noir, Sonoma County
This pinot noir strikes a nice balance between earth and fruit. You get the expected cherry notes on the nose, but also cedar and forest floor, along with a dusty aroma that's picked up on the palate with chalky tannins that persist on the long finish. The wine dances on tha palate, showing cranberry, strawberry and ample acidity to stretch out the finish. Like most of the 2011 pinots, this is a good candidate for cellaring, especially if you love Burgundy. We like where this one is going. 107 cases produced. Retail $35, Cartograph Circle $29.75

In 2009 we moved from San Francisco to Healdsburg to get closer to our grapes and to get back in touch with
soil. While we were in San Francisco, Alan did manage to grow corn, potatoes, lemons, and one asparagus stalk; Serena had prolific (for San Francisco) basil and tomatoes. But we really wanted a true garden that changes with the seasons and allows us to plan dinner by choosing what's ready to pick.
As we've been waiting to begin tasting room construction, we've been hard at work expanding the Cartograph garden. Our plan is to share the produce we grow with folks who stop by the tasting room-so in addition to tasting our wine, you can pick up fresh produce and recipe ideas. (If you were here today, we'd have zucchini and basil for you, along with a great recipe for zucchini pancakes). In a couple of days, the padrón peppers will be looking for takers. If you're headed this way, let us know and we'll prepare a bag of produce for you.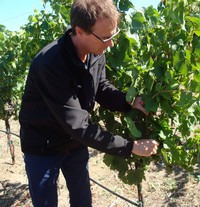 Vineyard Update
I've always been a weather nerd. Actually, I'm forced to be a weather nerd because I like to grow things. I sometimes forget that not everybody like to compare multiple weather forecasts, or keeps an obsessive log of the date when they pick the first and last harvest of every single thing in the garden. However, if you do wonder about what's going on out in the vineyard before the grapes are sweet and tasty, this recap is for you. Click hear to read this update on our blog.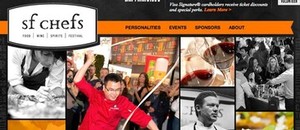 Join us on Saturday August 3rd in San Francisco's Union Square for the SF Chefs food, wine, and spirits festival, where we'll be pouring Cartograph wines to accompany 31 acclaimed chefs' take on the day's theme: The Five Tastes-Bitter, Sour, Salty, Sweet, and Umami. More information and tickets here.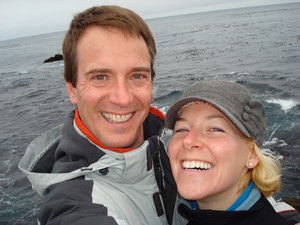 Can you hear the hammers pounding away? The walls of our new tasting room are going up as you read this-follow our progress on Facebook and Twitter. Don't forget to order your Summer Sipper Six-Pack. Hope to see you there this summer or fall.
Cheers,
Alan, Winemaker/Owner, and Serena, Owner