Spring Forward
Thanks to all of our Cartograph Circle members and friends who made our recent Midwest visit so much fun! Before we poured at Pinot Days Chicago in April, we hosted small gatherings in Minneapolis and Chicago to give club members a sneak peek at our spring releases. It was all a lead-up to our fabulous release party at the tasting room in early May . . . and we capped off our spring events with a four-year vertical tasting during Passport to Pinot in Healdsburg.
RECENT PRESS
"You'll never taste or smell a Gewürztraminer quite like the 2012 vintage winemaker Alan Baker makes from grapes grown on Floodgate Vineyard in the Russian River Valley," began a nice writeup about Cartograph on Zagat.com in April. We were thrilled to be part of Zagat's "Ultimate Guide to Healdsburg in Sonoma County."


On May 3, we invited Cartograph Circle members to join us for a wonderful tasting-room luncheon that paired two delicious paellas by Chef Fabiano Ramaci with our new wines. The heady aromas from the spices of the paella intermingling with the fruit aromas in the wines definitely made for a 2 + 2 = 5 moment.
The highlight of the afternoon for us was to be able to spend time with each of our guests. We're always excited to hear about what you've been up to and about your fantastic adventures, wine-related and otherwise.
Lest you think that things quieted down after the release parties: The warm weather has the vineyards well ahead—maybe three whole weeks ahead, in fact—of where they would typically be at this time of year. Alan is in the midst of tasting all the 2013 Pinots and getting blends dialed in. We're also back into generating labels; purchasing glass, corks, etc.; and getting all the wines prepared for bottling in August.
We've also welcomed some new team members this month (read on for more) and the documentary American Wine Story, in which we're featured, premiered at the Mendocino Film Festival (more to come on that this fall).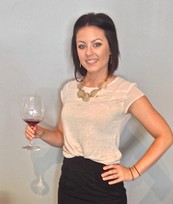 We're delighted to introduce you to our new Cartograph Ambassador, Emily Somple.
Emily is a wine-country native, raised by two entrepreneurial parents in St. Helena, Calif. She began her career in the service industry at age 15 and continued to wait tables and bartend at some of the best restaurants in Napa Valley and Sonoma County while she completed her degree in music at Sonoma State.
Over the next dozen years, Emily traveled the world, performing on countless stages as a professionally trained singer while continuing her education in wine and food—but she always returned to wine country. While working at a bistro in Calistoga, Emily discovered that wine, food and music could be complementary art forms, and managed to create a position within the restaurant as a server/bartender/performer who waited on customers and sang with the house band during her breaks.
Emily came to us at Cartograph to take the next step in immersing herself in the wine business. Business is in her DNA, and a passion for wine is in her veins. We hope you'll stop by the Cartograph tasting room to meet her.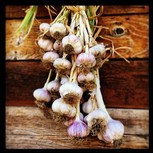 The winter citrus and spring lettuces are almost a distant memory and the garden is moving fast in this warm weather. Alan dug close to 90 heads (!) of garlic recently; it's now curing, and we'll have some for you in the tasting room soon. The beans, melons, tomatoes, cukes, and more are putting on a lot of growth in the abundant sunshine. (We're hoping to create some delicious cannellini bean recipes to pair with our Pinot release this fall.)
While the hyacinth, tulips and daffodils have faded, the apple, cherry and peach trees bloomed ferociously and the fruit is just starting to show. Our Fuji graft onto the Gravenstein should yield fruit for the first time this year!
In the vineyards, our early spring and above-average temperatures have everybody scrambling to keep up. There seems to be no such thing as a "typical" growing season anymore—we're definitely seeing spectacular early summer growth already. Most vineyards would be making several passes to sucker, get the canes trained into the trellis, and then pull laterals (secondary canes that keep moisture in the fruit zone and shade the fruit), but in many places we've had to do this all at the same time while wrestling canes that are much longer than would normally be expecting. All that adds up to slow going in the vine rows.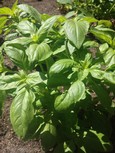 Because of the bountiful amounts of basil and garlic from the Cartograph garden, we've been making pesto. One of our favorite summer meals has been grilled chicken served with pasta tossed with pesto and a side of salted watermelon. Get yourself some of that perfect summertime-sipping Rosé at the Cartograph tasting room . . . or click here to order. We can cold-ship to guarantee the safety of your shipments all summer long. And if you are coming by the tasting room, we keep a couple of jars of the pesto in the tasting room for Circle members, so please ask for one.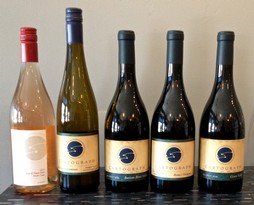 July 12 - 13: Wine'd Up Weekend, Healdsburg - Cartograph Circle members receive a special tasting and wine club member benefits at 33 participating downtown Healdsburg tasting rooms.
July and August: Vineyard tours and lunchtime tastings with the winemaker. Stay tuned for more info.
August 30: Taste of Sonoma, Healdsburg - a grand tasting of Sonoma county wines.
September: Fall releases and harvest kickoff! Details to come in a future newsletter.

We love to hear the buzz of the bees each morning as we walk through the Cartograph garden. They seem to set the pace of our days right now: busy and productive. We hope you'll have a chance to come visit us in the tasting room and see the new projects we're working on.
Cheers,
Alan, Winemaker/Owner, and Serena, Owner