What an exciting time! We've wrapped up harvest season, opened the doors to the new tasting room and gotten ourselves into the holiday spirit. As we sat down to a wonderful Thanksgiving meal with friends and family, we took time to reflect on the amazing year we've had.
RECENT PRESS
Wine Enthusiast West Coast Editor Steve Heimoff spotlighted the Cartograph 2012 Russian River Valley Rosé of Pinot Noir as his Editor's Choice in the magazine's November 2013 issue, calling it "a rosé that's ethereal and delicate."


Reflections on 2013
What a year 2013 has been! After our production hit 1,000 cases with the 2012 harvest, we decided to make a leap and launch our own space where we could tell the Cartograph story and share our wines. We kicked off the year looking for a new tasting room closer to Healdsburg's main square.
Once we had our space, the creative juices flowed as we made drawings of what we wanted it to look like. Today, as we look around and see how those drawings came to life, we're absolutely thrilled with how the tasting room became a true reflection of Cartograph.
In the spring, we presented our wines at Pebble Beach Food and Wine, at the Food & Wine Classic in Aspen and at SF Chefs in San Francisco. It was a pleasure to see how well the wines were received outside our circle of friends and longtime supporters; our little brand is getting great recognition from critics and sommeliers.
Locally, we got more involved in what's happening in downtown Healdsburg. Serena was asked to join the Downtown Business District Advisory Board, which guides strategy for downtown growth and helps to direct marketing efforts for downtown businesses. We've also been working to establish an alliance of downtown wineries called Wine.Walk.Healdsburg. Stop in at our tasting room for a map, or click the link for a look at all the downtown wine-tasting options.
Harvest was admittedly a bit of a blur, but 2013 delivered an amazing crop. With its moderate late-season temps, the long summer gave us great hang time without destroying the vibrant acidity that is so crucial to our style of winemaking. We're very excited by what we've got in the winery.

Tasting room: day 53
The paper that covered our windows for six months came down on Oct. 26 when we held a tasting of our new releases—and a sneak peek at our new tasting room—for Cartograph Circle members. On Oct. 27, in conjunction with the Pinot on the River Festival in downtown Healdsburg, we opened our doors to the public.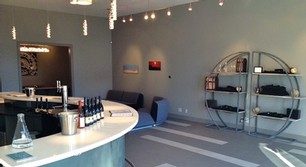 Our furniture is still arriving one piece at a time and we're finalizing some design details, but we should have everything completed in January. Once it's finished, we'll have a grand-opening celebration in February so we can all celebrate together at long last.
The response from our neighbors and visitors has been wonderful and we haven't stopped smiling. If you've visited the tasting room and had a great experience, we'd be eternally grateful if you would share your thoughts on Yelp and Trip Advisor. Reviews on these two websites—the most popular sites for planning trips to wine country—will help us get the word out about our new location.
We hope to make every visit to our tasting room wonderful, and we're delighted that so far that's the word on the street. Please come see us if you're in the area: We're open every day from noon to 6:30 p.m

Pinot A to Z
If you've ever visited us during harvest, you know that I almost always have a small batch of something percolating on the back bar. You might get a taste of Pinot juice from a sample that was taken in the vineyard that morning, or a fermentation that is just taking off at the winery. The reactions we get are almost always ones of surprise that what is in the glass will eventually become an amazingly complex and graceful wine.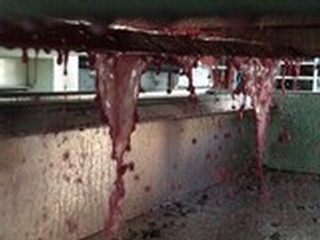 This got me thinking about how I could help people experience all the stages of a Pinot Noir, from growth through fermentation and maturation. As the winemaker, I get to taste the wine at every stage, and I find the process of tracking its changes endlessly fascinating. So as I started sugar sampling in late summer, I saved my samples and froze them. I also pulled samples from active fermentations throughout that process.
Now that I have a freezer chock-full of samples, I've created a new tasting experience called "Pinot A to Z" that lets visitors sample along as I give a verbal and visual tour of how Pinot Noir is made. We taste juice samples as well as current releases and library wines from Cartograph. The first few sessions were an absolute blast, and I'm excited to dig into the freezer for more.
The details: Pinot A to Z tastings typically last about 90 minutes, and the charge is $50 per person. Because the samples are limited, I try to put together a group for each tasting—email info@cartographwines.com if you'd like to be part of an upcoming group. I hope you'll join us for this unique look at how Cartograph wines evolve from vineyard to glass.
Cheers,
Alan

January 18 - 19: Winter Wineland in Healdsburg, CA - details here
February 15 (tentative date): Grand opening celebration at the Cartograph tasting room, 340 Center St. in downtown Healdsburg
February 28: World of Pinot Noir, Santa Barbara, CA - details here
April 26: Pinot Days, Chicago, IL - details here

Low temperatures across much of the country mean that we have limited ability to ship wine at the moment. We can ship up and down the West Coast, and might be able to ship via two-day service to points elsewhere. If you'd like to order some wine for the holidays, email info@cartograph.com and we'll work with you to see whether we can arrange for some happiness to land on your doorstep.
May your holiday season be filled with love, laughter, delicious meals and Cartograph wines. Happy holidays, and thank you for your continued support!
Cheers,
Alan, Winemaker/Owner, and Serena, Owner