Zucchini Fritters With Succotash Salad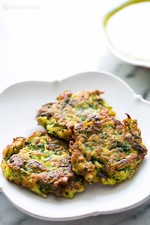 Recipe Date:
March 8, 2017
Measurements:
Imperial (US)
Ingredients
2 lbs Zucchini, grated
1 tsp Kosher salt
1/3 cup All purpose flour
2 tsps Cornstarch
1/2 tsp Freshly ground black pepper
1/4 tsp Garlic powder
2 Eggs, beaten
2 tsps Finely chopped basil
2 tsps Finely diced shallots
1/2 cup Sunflower or other light vegetable oil
2 tbsps Butter
2 Ears fresh sweet corn, kernels removed
1/3 cup Diced red bell pepper
3 Green onions, white and green parts chopped
2 tsps Freshly squeezed lemon juice
1/2 tsp Kosher salt
1/4 tsp Freshly ground black pepper
1 cup Creme fraiche
Chopped fresh basil (optional), for garnish
Directions
Pairing notes: The brightness of the Rosé compliments the rich flavors of the zucchini fritters.
Serena's tip: You can make the succotash salad in advance to save time. We've also made this into a meal by making larger size fritters and adding arugula to the succotash and serving it as a side salad.
Recipe: Zucchini Fritters With Succatash Salad, Chowgirls Killer Party Food, copyright 2016
In a colander, sprinkle zucchini with salt and toss well. Set colander over a towel (or in the sink) and let it drain for 10 minutes. In the meantime whisk together flour, cornstarch, pepper and garlic powder. Add eggs, basil, and shallots and stir until well combined.
Using a clean dishtowel, wring the zucchini dry, then add to flour and egg mixture. Stir to incorporate well.
Heat oil in a large frying pan on medium heat. Working in batches, drop zucchini mixture by tablespoonful into hot oil. Flatten slightly, then cook until golden and crisp, about 2 minutes per side. Drain fritters on paper towel on a plate and keep warm.
In a medium frying pan on medium heat, melt butter, Add corn, bell peppers, and green onions and sauté for 3 - 5 minutes. Season with lemon juice, salt and pepper.
To assemble, plate each fritter and garnish with about 2 tsp creme fraiche and 1 tbsp succotash. Garnish with more fresh basil, if desired.
Makes 24 to 30 fritters.
Our recipe pairings for the spring 2017 release are all coming from Chowgirls Killer Party Food, the best-selling cookbook written by good friends of ours from Minnesota. Chowgirls has been catering Cartograph's Minnesota spring release parties since our debut, and chef Heidi Andermack has been friends with Alan since his days at Minnesota Public Radio.
Photo courtesy of: Simply Recipes, Zuchinni Fritters http://www.simplyrecipes.com/recipes/zucchini_fritters/