Winter Squash and Wild Mushroom Curry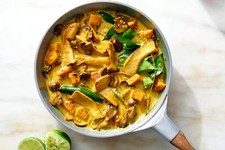 Recipe Date:
August 25, 2020
Measurements:
Imperial (US)
Ingredients
3 tbsps vegetable oil
10 ozs butternut or other winter squash, peeled and cut into 1/2-inch pieces
Kosher salt and black pepper
2 small green chiles, such as jalapeño or serrano
3 medium shallots or 1 small onion, finely diced
1/2 tsp black mustard seeds
1/2 tsp cumin seeds
Handful of fresh or frozen curry leaves (optional)
2 garlic cloves, minced
1 tsp ground coriander
Pinch of ground cayenne
1/2 tsp ground turmeric
1 lb mushrooms, preferably a mix of cultivated and wild, trimmed and sliced 1/8-inch thick
3/4 cup coconut milk
2 tbsps lime juice
Cilantro sprigs, for garnish
Directions
Pairing Notes: Winter squash with mushrooms screams for Pinot noir.
Chef's Tip: This definitely makes 4 servings, not 6. You can choose to roast the squash for 20 minutes at 400 degreees instead of cooking it on the stove. Definitely use full fat coconut milk because ti makes the texture much better. In step 3, we cook the garlic with the shallots.
Recipe courtesy of David Tanis and the New York Times. Photo courtesy of David Malosh for The New York Times. Food Stylist: Simon Andrews.