Wild Mushroom Hotdish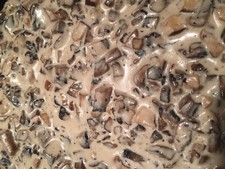 Recipe Date:
August 1, 2017
Measurements:
Imperial (US)
Ingredients
2 tbsps butter
2 tbsps olive oil
8 ozs cremini mushrooms, chopped
1/2 tsp salt
1/4 tsp freshly ground black pepper
2 large portobello mushroom caps, thinly sliced
8 ozs shiitake, oyster, or other mushroom variety, sliced
1 tbsp butter
1 tbsp all-purpose flour
1/2 cup milk
1/2 cup heavy cream
1/2 cup grated pecorino or Parmesan cheese
salt and pepper, to taste
1/8 tsp truffle oil (optional)
3/4 cup breadcumbs tossed with 2 tbsp melted butter
Directions
Pairing notes: A mix of mushrooms and a rch cheese sauce enhance the dark fruit elements in the Perli Vineyard Pinot.
Serena's tip: Chop all the mushrooms to a fairly small dice so get a good mixture of mushrooms on your sliced baguette.
Recipe: Wild Mushroom Hotdish, Chowgirls Killer Party Food, copyright 2016
Preheat oven to 350ºF.
In a large frying pan on high heat, melt 1 tbsp butter with 1 tbsp olive oil. Working in small batches, add cremini mushrooms, salt, and pepper and sauté for 3-5 minutes, until soft. Remove mushrooms and set aside. Melt another tbsp butter and olive oil and, working in small batches, sauté portobello and shiitake mushrooms for about 5 minutes, until soft. Remove mushrooms and set aside.
Reduce heat to low and melt 1 tbsp butter. Whisk in flour to make a roux. When roux begins to brown, stir in milk and cream. On medium heat, bring to a boil. Add cheese and whisk until bubbling and thick. Stir in cooked mushrooms. Season to taste. Stir in truffle oil.
Transfer to a 2-qt casserole dish or cast-iron frying pan. Sprinkle breadcrumbs over top and bake for 30-35 minutes, until heated through and breadcrumbs are browned.
Makes 4 cups.
Photo courtesy of Serena Lourie
Our recipe pairings for the fall 2017 release are all coming from Chowgirls Killer Party Food, the best-selling cookbook written by good friends of ours from Minnesota. Chowgirls has been catering Cartograph's Minnesota spring release parties since our debut, and chef Heidi Andermack has been friends with Alan since his days at Minnesota Public Radio.