Vichysoisse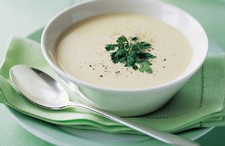 Recipe Date:
April 4, 2016
Measurements:
Imperial (US)
Ingredients
4 tbsps Unsalted butter
4 cups Sliced leeks (white and pale green parts only)
6 Garlic cloves, pressed or minced
3 lbs Peeled and cubed Russet potatoes (about 4 large potatoes)
8 cups Vegetable stock or chicken stock
2 cups Heavy cream
Freshly ground nutmeg (optional)
Directions
Pairing Notes: The richness of the soup contrasts the vibrant acidity of the Rosé and the soft flavors of the potato and leek contrast the bright peach and citrus flavors of the Rosé.
Serena's Tips: Make sure not to brown the onion or it gives it a different flavor. The recipe link has many variations on vichysoisse that are equally fun to make.
Recipe courtesy of Luna Cafe and Susan Bradley
Photo courtesy of The Armchair Anglophile