Truffled Taleggio and Mushroom Pizza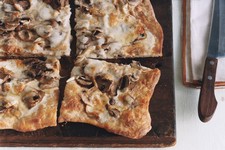 Recipe Date:
September 2, 2016
Measurements:
Imperial (US)
Ingredients
1 lb Pizza dough, thawed if frozen
1/2 lb Sliced mushrooms
3/4 lb Cold Taleggio or Italian Fontina, rind discarded and cheese sliced
1 tsp White truffle oil (optional)
Directions
Pairing Notes: We love mushrooms with Pinot Noir and find that in this combination, the mushrooms echo the savory notes in the Mariah and highlight the fruit notes. The Taleggio melts so well tand it's creaminess compliments the body of the Mariah Pinot.
Serena's Tips: I add the truffle oil after putting the mushrooms on the pizza and then put the cheese on top of both. Taleggio is so creamy when melted that you don't need a sauce with this pizza. I use pre-cut mushrooms for time management and because they are a little more dried out than a freshly sliced mushroom, I don't run into any issues with the pizza becoming wet. Note, if you are doing the pizza on a pizza stone, do not use the parchment paper and reduce the temperature to 475.
Recipe courtesy of Epicurious Paul Grimes Gourmet April 2008
Photo courtesy of Epicurious