Truffled Mac and Cheese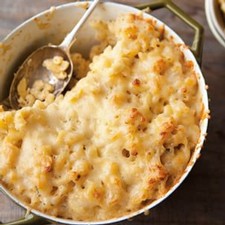 Recipe Date:
September 1, 2015
Measurements:
Imperial (US)
Ingredients
1/2 Stick of Butter (for the baking pan), plus 4 Tbsp for the roux
Salt, to taste
1 lb Elbow Macaroni
2 tsps Truffle Oil
1/4 cup All Purpose Flour
1/2 tsp Sweet Paprika
1/2 tsp Dijon Mustard
2 cups Milk
1 cup Half-and-Half
Black Pepper, freshly ground, to taste
1 1/2 cups Gruyère Cheese, shredded
1 1/2 cups White Cheddar Cheese, shredded
2 tbsps Fresh Chives, minced
Directions
Pairing Notes: The truffle from the mac and cheese and the fruit notes from the Mariah pair beautifully together.
Chef's Tip: We like to make a big tray of this and cut it into individual serving sizes making it easy to freeze and defrost servings.
Recipe and photo courtesy of Williams Sonoma, via williams-sonoma.com.