Sweet Corn Risotto with or without Shrimp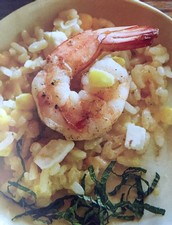 Recipe Date:
August 1, 2017
Measurements:
Imperial (US)
Ingredients
4 cups chicken stock
2 tbsps olive oil
2 tbsps butter
1 cup chopped onions
1 1/2 cups Arborio rice
1 1/2 tsps salt
3 ears of fresh sweet corn kernels, cut off cob
1 cup dry white wine
3/4 cup Parmesan cheese
2 tbsps lemon juice
2 tsps lemon zest
20 medium raw shrimp, devined, peeled, tail on
1 tbsp olive oil (for shrimp)
1 tsp salt
1 tsp freshly ground pepper
1/2 cup crumbled feta cheese
1/4 cup fresh basil chiffonade, for garnish
Directions
Pairing notes: We love how the citrus in this dish echoes the citrus in the Riesling and that the sweet corn risotto brings a richness to the Riesling.
Serena's tip: We have left the shrimp out to and used vegetable stock to make this a tasty vergetarian dish. You can also pre-cook the shrimp and add it to the risotto at the end.
Recipe: Sweet Corn Risotto with Shrimp, Chowgirls Killer Party Food, copyright 2016
Preheat oven to 450 degrees.
In a large saucepan pn medium-high, bring stock to a low boil. Cover pan and reduce heat to low.
In a large frying pan on high, heat olive oil and butter until sizzling. Add onions and cook for 3 minutes, until translucent. Stir in rice, salt, and corn kernels. Cook for 3 - 4 minutes on medium high heat (it took us closer to 6 minutes), stirring occassionally, until rice is very lightly toasted. Stir in wine and cook until reduced by half, about 3 more minutes.
While continuously stirring, add warm chicken stock, about 1/2 cup at a time, allowing rice to absorb most of the existing liquid between additions, until it becomes creamy and is cooked through. Stir in Parmesan and lemon juice and zest until well incorporated, cover, and set aside keeping or warm.
In a large bowl, toss shrimp in olive oil, salt, and pepper. Place shrimp on baking sheet. Roast shrimp until just pink, firm, and cooked through, about 5 - 7 minutes. To grill shrimp, heat a charcoal or gas grill to about 350 degrees and, using cooking spray, oil the grates. Toss shrimp in olive oil, salt, and pepper and lay flat on grill. Cook for 2 minutes on each side, until shrimp are grill-marked.
Portion equal amounts of risotto on small plates and top with shrimp, feta cheese and basil. Serve warm.
Makes 12 appetizer servings
Photo courtesy of Chogirls Killer Party Food.
Our recipe pairings for the fall 2017 release are all coming from Chowgirls Killer Party Food, the best-selling cookbook written by good friends of ours from Minnesota. Chowgirls has been catering Cartograph's Minnesota spring release parties since our debut, and chef Heidi Andermack has been friends with Alan since his days at Minnesota Public Radio.