Summer Vegetable Galette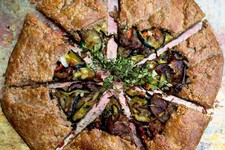 Recipe Date:
August 26, 2020
Measurements:
Imperial (US)
Ingredients
For the Dough
2/3 cup (80 grams) all-purpose flour
2/3 cup (90 grams) rye flour or whole-wheat flour
1 tsp (5 grams) sugar
1/2 tsp (3 grams) fine sea salt
1 large egg
Heavy cream, as needed
stick (113 grams) unsalted butter, cut into big pieces
2 tsps (10 milliliters) lemon juice
1/2 tsp (4 grams) grated lemon zest (optional)
For the Filling
2 medium eggplant (about 1 pound), trimmed and thinly sliced
2 medium zucchini (about 3/4 pound), trimmed and thinly sliced
1 lb plum tomatoes, cored and thinly sliced
Extra-virgin olive oil, as needed
Kosher salt, as needed
Black pepper, as needed
2 hot chile peppers, such as cherry peppers, seeded and minced
3 ozs goat cheese, softened
1 small garlic clove, grated or pressed
1 tsp thyme leaves
Directions
Pairing Notes: We love making vegetable galettes in summer when the garden is booming with fresh vegetables, and it tastes great with Pinot noir.
Chef's Tip: Because we have a great bakery in Healdsburg, we use a pre-made pie crust from Downtown Bakery. Also, for the goat cheese CHEVOO has amazing whipped goat cheese that works great with this dish.
Recipe courtesy of Melissa Clark and the New York Times. Photo courtesy of Andrew Scrivani for The New York Times.