Spicy Eggplant with Tomatoes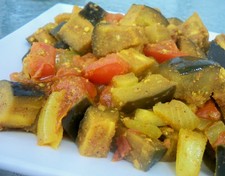 Recipe Date:
September 2, 2016
Measurements:
Imperial (US)
Ingredients
1 large Italian eggplant (about 1 lb.)
3 tbsps canola oil
1 medium onion, finely chopped
1 tsp fresh grated garlic
1 tsp fresh grated ginger
1 tsp ground turmeric
1 tsp cumin seeds, finely ground
1 tsp cayenne
2 medium tomatoes, finely chopped
1 1/2 tsps salt
1 tsp sugar
Directions
Tasting notes: This is a spicy dish which compliments the citrus and honey notes in the Riesling. The bright acidity in the Riesling balances the heat in the dish.
Serena's tips: This is a great vegetarian Indian dish that we serve rice or naan and a side of Punjabi Red Beans and Dal. Make sure you keep an eye on how the eggplant is cooking because you want to make sure you pull it off the heat before it gets mushy.
Recipe:
Website link
Website address: https://www.food.com/recipe/spicy-eggplant-with-tomatoes-385617
Recipe courtesy of From "5 Spices, 50 Dishes" by Ruta Kahate. Photo courtesy of Food.com user *Parsley.*