Slow-Roasted Citrus Salmon With Herb Salad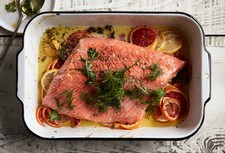 Recipe Date:
March 18, 2020
Measurements:
Imperial (US)
Ingredients
1 1/2 lbs piece skinless salmon fillet (or halibut or cod)
Kosher salt and black pepper
2 lemons, Meyer or regular, thinly sliced, plus 1 tablespoon fresh lemon juice
1 blood orange, mandarin orange or regular orange, thinly sliced
6 sprigs thyme, rosemary, oregano or marjoram (optional)
1 1/2 cups olive oil
2 cups herbs, such as parsley, cilantro, dill and tarragon, roughly picked from the stem
Flaky sea salt, for serving
Directions
Pairing Notes: We love a great piece of salmon paired with Pinot, the richness of the salmon contrasts beautifully with the brightness of this Pinot.
Chef's Tip: You can try it with halibut but ... we love it with salmon. As for the herbs, cilantro was a little odd but parsley, dill, tarragon, rosemary and thyme all worked.
Recipe courtesy of Alison Roman and the New York Times. Photo courtesy of Romulo Yanes/New York Times. https://cooking.nytimes.com/recipes/