Sheet-Pan Roasted Fish With Sweet Peppers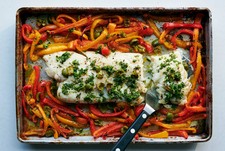 Recipe Date:
March 18, 2020
Measurements:
Imperial (US)
Ingredients
1 small bunch lemon thyme or regular thyme
1 1/2 lbs pounds hake fillets
Fine sea salt and black pepper
3 large bell peppers, preferably 1 red, 1 orange and 1 yellow, thinly sliced
4 1/2 tbsps extra-virgin olive oil, plus more for drizzling
1/4 cup pitted, sliced black or green olives, or a combination
1 tsp sherry vinegar, plus more to taste
1 garlic clove, grated
1 cup loosely packed Italian parsley leaves, chopped
Directions
Pairing Notes: The dressing highlights the vibrancy of this Pinot and the peppers provide a subtle nod to the bright fruit in the Pinot.
Chef's Tip: Don't cut the peppers too thin or they will brown (or burn). We put the garlic in the oven and roast it before putting it into the dressing.
Recipe courtesy of Melissa Clark and the New York Times. Photo courtesy of David Malosh for The New York Times. Food Stylist: Simon Andrews. https://cooking.nytimes.com/recipes/