Sauteed Pork Chops with Sweet Potato, Apples, and Mustard Sauce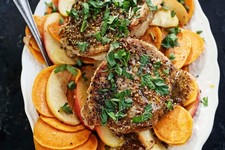 Recipe Date:
September 1, 2018
Measurements:
Imperial (US)
Ingredients
1/2 cup apple cider or juice, plus extra if needed
1/4 tsp ground cinnamon
salt
2 boneless, center-cut loin pork chops, 3/4in thick
fresh ground black pepper
2 tbsps olive oil
1 medium sweet potato, about 1/2 lb, peeled and thinly sliced
1 braeburn, gala, or other sweet-tart apple, cored and thinly sliced
1 shallot, minced
1 tsp dijon mustard, smooth or whole-grain
2 tsps minced fresh flat-leaf parsley
Directions
Tasting notes: We love how the lushness of the Perli plays with the tart apples and sweet potatoes.
Serena's tips: Reduce the cinammon to 1/8th of a teaspoon otherwise it is can overwhelm the subtle blackberry and plum that are present in the Perli.
Recipe:
Website link
Website address: www.epicurious.com/recipes/food/views/sauteed-pork-chops-with-sweet-potato-apples-and-mustard-sauce-51171620
Recipe and photo courtesy of: www.epicurious.com.