Roasted Halibut With Lemons, Olives and Rosemary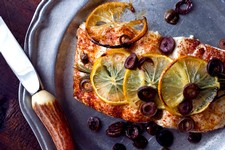 Recipe Date:
August 26, 2020
Measurements:
Imperial (US)
The bright flavors of this dish work beautifully with a fruit forward Pinot Noir.
Ingredients
2 (8-ounce) halibut fillets, preferably at least 1-inch thick
1 1/2 tsps extra virgin olive oil, more to taste
Kosher salt
Ground chile pepper, preferably Turkish or Aleppo
2 rosemary branches
1 small lemon, very thinly sliced
1/4 cup sliced, pitted calamata or other good-quality black olives
Directions
Pairing Notes: This is a really easy fish dish to prepare and the olives and the fattiness of the fish provide a great backdrop to the bright fruit in this Pinot noir.
Chef's Tip: If you can't find halibut, cod is a great substitution. Aleppo pepper is really mild so it adds a nice touch to the dish without the heat.
Recipe courtesy of Melissa Clark and the New York Times. Photo courtesy of Andrew Scrivani for The New York Times.