Roast Chicken Salad With Croutons and Shallot Dressing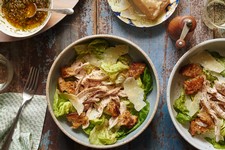 Recipe Date:
March 16, 2022
Measurements:
Imperial (US)
Ingredients
1/3 cup minced red onion or shallots
3 tbsps sherry or balsamic vinegar
salt and freshly cracked black pepper
1/4 cup extra-virgin olive oil, more to taste
1/4 cup minced parsley
3 tbsps olive oil
2-3 cups bite-size bread pieces
11 ounces leftover roast chicken, skin and bones removed, with any juices that have collected in the container
6 ozs ounces tender salad greens, like mesclun, bibb or oak leaf lettuce
2 ozs chunk parmesan or aged gouda or other sharp cheese
Directions
Tasting notes: We love roasted chicken wihh Rosé, they compliment each other perfectly between the rich savoryness of the chicken contrasting with the bright acidity of the Rose.
Serena's tips: Rub the bread for croutons with garlic to add some punch and add the dressing sparingly to suit your taste.
Recipe:
Website link
Website address: https://cooking.nytimes.com/recipes/1018227-roast-chicken-salad-with-croutons-and-shallot-dressing
Recipe from Antoine Westermann, adapted by Julia Moskin for the New York Times. Photo courtesy of Melina Hammer for The New York Times.