Quick and Easy Cioppino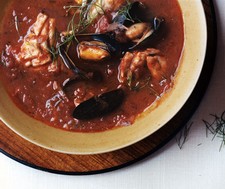 Recipe Date:
January 1, 2018
Measurements:
Imperial (US)
Ingredients
1 Fennel bulb
1 Medium onion
3 Garlic cloves
4 tbsps Olive oil
2 Turkish bay leaves (or 1 California)
1 1/2 tsps Dried thyme
1/8 tsp Dried hot red-pepper flakes
1 Can crushed tomatoes (28 oz)
1 1/2 cups Water
1 cup Full bodied red wine (Zin or Syrah)
1 Bottle clam juice (8 oz)
1 lb Skinless fillet of thick white fish (halibut, hake, or pollack)
1 lb Cultivated mussels
Directions
Pairing notes: Delicious seafood and tomato flavors pair well with the bright acidity of both the Rosé of Pinot noir and the Gewürztraminer.
Chef's tip: If you don't like the flavor of fennel, you can leave it out as there are great flavors in the recipe. We also alternate between using an onion or two large shallots.
Recipe courtesy of Paul Grimes in Gourmet Magazine's October 2007 issue via Epicurios.com. Photo by Romulo Yanes.