Provençal Fish Stew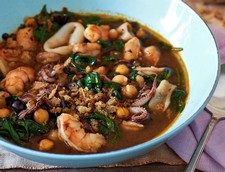 Recipe Date:
August 25, 2020
Measurements:
Imperial (US)
Ingredients
1 cup cooked or canned chickpeas
4 tbsps olive oil
1 cup fresh bread crumbs
Salt and ground black pepper
1 tbsp minced garlic
1/4 cup niçoise or oil-cured olives, pitted and chopped
1 tbsp capers, chopped
2 anchovy fillets, finely chopped
2 tbsps tomato paste
1 lb spinach
2 cups fish or vegetable stock, or water
Pinch red chile flakes (optional)
8 ozs squid, roughly chopped
8 ozs shrimp, roughly chopped
Directions
Pairing Notes: This is a classic pairing for Riesling and this one has a fun twist with the olives and capers.
Chef's Tip: If you don't like the texture of squid, substitute halibut or grouper.
Recipe courtesy of Mark Bittman and the New York Times. Photo courtesy of Melina Hammer for The New York Times.