Pork Tenderloin with Balsamic-Cranberry Sauce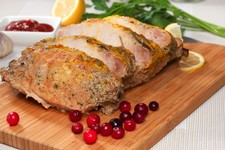 Recipe Date:
September 2, 2016
Measurements:
Imperial (US)
Ingredients
1 1/2 tbsps butter
1 8 to 10 ounce pork tenderloin
1/2 cup chopped onion
1 tbsp fesh chopped rosemary
1/2 cup canned low-salt chicken broth
1/3 cup canned whole berry cranberry sauce
1 tbsp balsamic vinegar
Directions
Tasting notes: Pork and Pinot are a classic pairing that we love because the pork brings out the savory elemnents in the Pinot. The balsamic-cranberry sauce compliments the fruit components and natural acidity in our Pinots.
Serena's tips: I reduce the rosemary to half a tablespoon because it can overwhelm the delicate fruit notes in our Pinot. For the whole berry cranberry sauce, try to find one that has less sugar in it because that can alter the balance of the dish.
Recipe:
Website link
Website address: www.epicurious.com/recipes/food/views/pork-tenderloin-with-balsamic-cranberry-sauce-100314
Recipe courtesy of Bon Appetit November 1998. Photo courtesy of Epicurious.