Pork Roast with Sausage, Fruit and Nut Stuffing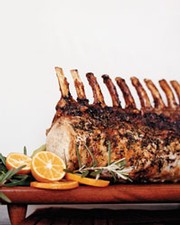 Recipe Date:
September 13, 2011
Measurements:
Imperial (US)
Ingredients
1/4 cup pine nuts
1/4 cup walnuts, halved
1 cup brandy
12 apricots, dried
12 prunes, pitted
1 tsp clementine zest, finely grated
1 lb butifarra (a catalan cured pork sausage), or sweet italian sausage, meat removed from the casings
1/4 cup olive oil, extra-vrigin
4 garlic cloves, minced
salt, to taste
pepper, freshly ground, to taste
2 6-rib pork loin roasts (8.5 lbs in total)
1 1/2 tsps thyme, minced
1 1/2 tsps rosemary, minced
3 tbsps flour (all purpose)
2 cups chicken stock, or low-sodium broth
Directions
Tasting notes: The fruit elements in the dish bring our the rich red fruit flavors of the Perli Pinot and the meat complements the earthy elements.
Serena's tips: It is about 45 minutes of active preparation and the rest of the time is cooking in the oven and clean up.
Recipe:
Website link
Website address: www.foodandwine.com/recipes/pork-roast-with-sausage-fruit-and-nut-stuffing
Recipe courtesy of José Andrés, via www.foodandwine.com. Photo courtesy of Akiko Ida & Pierre Javelle.