Pork Chops with Fresh Peaches and Basil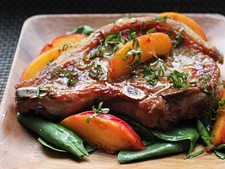 Recipe Date:
September 2, 2016
Measurements:
Imperial (US)
Ingredients
2 bone-in rib or center-cut pork chops (4 to 6 ounces each)
kosher salt and freshly ground pepper
2 tbsps olive oil
3 peaches, pits removed and cut into 1/4 inch slices
2 tsps zest from 1 lemon
2 tbsps freshly squeezed lemon juice
1 tsp sugar
1/2 tsp salt
pinch of dried red chili flakes
2 cups fresh raw baby spinach
1/4 cup fresh basil, roughly chopped
1 tbsp butter
Directions
Tasting notes: Pork and Pinot are a classic combination. We love how the peach and basil highlight the fruit elements of the 2014 Choate Pinot and the spinach compliments the earthiness.
Serena's tips: You can make the sauce in advance and rewarm it when you serve the dish. Make sure the peaches are not overly ripe or they will fall apart.
Recipe:
Website link
Website address: www.seriouseats.com/recipes/2013/08/pork-chops-peaches-basil-recipe.html
Recipe courtesy of Yasmin Fahr Serious Eats. Photo courtesy of Serious Eats.