Penne with Butternut Squash and Goat Cheese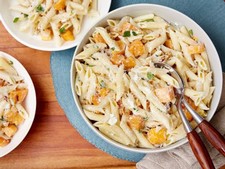 Recipe Date:
September 2, 2016
Measurements:
Imperial (US)
Ingredients
1 2 lb. butternut squash, peeled, seeded, and cut into 3/4 inch cubes
1 yellow onion, diced into 1/2 inch pieces
olive oil, for drizzling
kosher salt and freshly ground black pepper
3/4 lb penne pasta
2/3 cup goat cheese
2/3 cup coarsely chopped pine nuts, toasted
1/2 cup chopped fresh basil leaves
1/3 cup parmesan cheese, finely grated
Directions
Tasting notes: We love how the richness of the roasted butternut squash brings balances the fruit elements of Pinot and the goat cheese echoes the acidity.
Serena's tips: We reduced the amount of goat cheese, nuts, and basil from the original recipe in order to bring the butternut squash in balance with the Pinot. We also substituted toasted pine nuts instead of walnuts because pine nuts are a little more subtle but both work. Also, be aware this makes much more than 4 - 6 servings.
Recipe:
Website link
Website address: www.foodnetwork.com/recipes/giada-de-laurentiis/penne-with-butternut-squash-and-goat-cheese-recipe.html
Recipe courtesy of GIada De Laurentiis. Photo courtesy of Food Network.