Penne With Carrots, Chanterelles and Sausage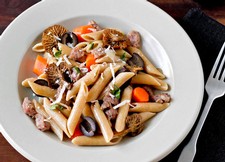 Recipe Date:
August 25, 2020
Measurements:
Imperial (US)
Ingredients
12 ozs medium-thick carrots, peeled
6 ozs chanterelles, brushed, trimmed and quartered if large
4 tbsps extra-virgin olive oil
5 cups chicken stock
1 medium onion, finely chopped
8 ozs italian sweet sausage, casing removed, crumbled
12 ozs whole wheat or farro penne
salt and ground black pepper
1/4 cup pitted black olives, halved
2 tbsps minced parsley
grated grana padano, for serving
Directions
Tasting notes: We thought it would be fun to cook pasta this way instead of standard boiling. The sausage and chanterelles compliment the earthy aspect of this Pinot which the carrots add some nice sweetness. Chanterelles are delicious on their own and go so well with Pinot so when you add penne and sausage, delicious!
Serena's tips: Decrease the roasting time of the chanterelles by adding them half way through the cooking of the carrots, otherwise they will be finished before the carrots are tender. Keep an eye on the cooking time for the pasta as it has always been shorter for us. We increased the Italian sausage to 12 oz.
Recipe:
Website link
Website address: https://cooking.nytimes.com/recipes/1016176-penne-with-carrots-chanterelles-and-sausage
Recipe courtesy of Florence Fabricant and the New York Times. Photo courtesy of Rikki Snyder for The New York Times.