Pecan-Crusted Salmon with Sorrel Sauce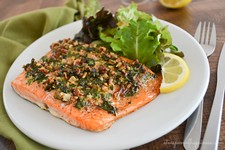 Recipe Date:
September 13, 2013
Measurements:
Imperial (US)
Ingredients
1/2 cup Sorrel, Fresh
2 tbsps White Wine, Dry
1 1/2 tsps Shallot, Minced
1 cup Whipping Cream
1 1/2 tsps Lime Juice
White Pepper, To Taste
1/2 cup Pecans
1 tsp Tarragon, Fresh
1 1/2 tsps Basil, Fresh
1 tbsp Butter
4 Salmon Filets, 6 Oz each
Directions
Pairing Notes: While salmon and Pinot naturally pair well, the real star of this recipe is the sorrel sauce, which brings the strawberry notes of the Floodgate Vineyard and the blackrspberry notes of the Perli Vineyard to the front of the palate. The pecans are a perfect complement to the earthy undertones laced through the wine.
Chef's Tip: If you can't find sorrel, substitute spinach. We recommend using just half of the pecan crust recipe so that the fish isn't too thickly coated.
Note: We suggest increasing the temperature and cooking the fish at 450 degrees for 15 minutes; cooking at 350 degrees took much longer than 20 minutes.
Recipe courtesy of The Pepper Mill, Clearwater, FL, via Epicurious.com.
Photo courtesy of a Teaspoonofhappiness.com