Peach and Fava Bean Salad (prosciutto optional)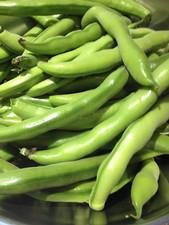 Recipe Date:
January 1, 2018
Measurements:
Imperial (US)
Ingredients
2 cups shelled fresh fava beans (5lbs of favas in their pods)
1/4 cup lemon juice
1/4 cup olive oil
3 peaches, sliced
3 cups baby arugula
3 slices of prosciutto, shredded (optional)
salt - to taste
1/3 cup shaved Parmesan cheese
Directions
Pop the fava beans out of their pods. Prepare a bowl of water with ice in it and set it aside. Bring a large pot of salted water to boil. Cook the fava beans until they are just tender, no more than 6 minutes. Drain the fava beans and toss them into the bowl of ice water for several minutes. Drain the ice water and gently pop the fava beans out of their outer skins. Put the fava beans in a bowl. Compost the outer skins.
Make the dressing: in a small bowl whisk together the lemon juice, olive oil, and salt and pepper to taste.
Toss the fava beans with the dressing, Then add the arugula and prosciutto (if desired) and toss it again to combine the beans and the arugula. Cut the peaches in and shave some Parmesan cheese over the whole salad.
Sometimes, if we have a loaf of ciabatta or sourdough bread we'll rip it up into one inch pieces and throw half a cup of torn bread in the salad and sprinkle it with balsamic vinegar. Or, if you'd like a crisp pop to the salad, throw in some radishes.