Pasta with Roasted Vegetables, Tomatoes, and Basil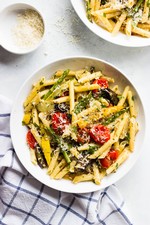 Recipe Date:
September 1, 2018
Measurements:
Imperial (US)
Ingredients
nonstick vegetable oil spray
3 red bell peppers, cut into 1/2-inch pieces
1 1/2 cups medium eggplants, unpeeled and cut into 1/2-inch pieces
2 1/4 cups large yellow crook-neck squash, cut into 1/2-inch pieces
6 tbsps olive oil
1 1/2 lbs penne pasta
3 medium tomatoes, cored, seeded, and diced
3/4 cup fresh basil (or 2 1/4 dried)
3 tbsps balsamic vinegar
2 garlic cloves, minced
3/4 cup grated parmesan
Directions
Tasting notes: Roasting vegetables brings out a certain element of sweetness and savoryness that echoes the Perli Pinot.
Serena's tips: Consider roasting the garlic cloves with the vegetables and perhaps using 4 cloves instead of 2.
Recipe:
Website link
Website address: www.epicurious.com/recipes/food/views/pasta-with-roasted-vegetables-tomatoes-and-basil-105764
Recipe courtesy of: www.epicurious.com. Photo courtesy of: https://www.littlebroken.com/pasta-primavera-with-roasted-vegetables/.