Pan-Fried Trout With Rosemary, Lemon and Capers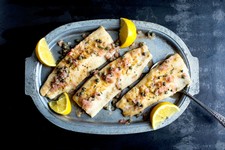 Recipe Date:
August 25, 2020
Measurements:
Imperial (US)
Ingredients
2 tsps chopped fresh rosemary
4 trout fillets
1/4 cup all-purpose flour
1/2 tsp salt, plus more to taste
freshly ground pepper to taste
1 tbsp olive oil
2 shallots, peeled and minced
1 cup white wine
1 tbsp lemon juice
1 tbsp drained capers
Directions
Tasting notes: The delicate nature of the Mendocino Ridge Pinot plays perfectly with this dish. Fish and Pinot are always wonderful together and the capers highlight earthy components in Pinot.
Serena's tips: We love the use of shallots in this dish instead of yellow onions, there is a nice complexity that is added.
Recipe:
Website link
Website address: https://cooking.nytimes.com/recipes/3511-pan-fried-trout-with-rosemary-lemon-and-capers
Recipe courtesy of Molly O'Neill and the New York Times. Photo courtesy of Andrew Scrivani for The New York Times.