Oven-Roasted Chicken Shawarma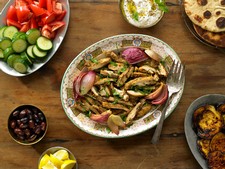 Recipe Date:
August 25, 2020
Measurements:
Imperial (US)
Ingredients
2 lemons, juiced
1 cup plus 1 tablespoon olive oil
6 cloves garlic, peeled, smashed and minced
1 tsp kosher salt
2 tsps freshly ground black pepper
2 tsps ground cumin
2 tsps paprika
1/2 tsp turmeric
a pinch ground cinnamon
red pepper flakes, to taste
2 lbs boneless, skinless chicken thighs
1 large red onion, peeled and quartered
2 tbsps chopped fresh parsley
Directions
Tasting notes: We love eating Indian food with Riesling and anytime we can cook it ourselves at home, we jump on the opportunity!
Serena's tips: If we have a cucmber on hand we like to make tzatziki to serve with it otherwise you can make a simple white sauce with plain yogurt, mayonnaise, lemon juice and garlic.
Recipe:
Website link
Website address: https://cooking.nytimes.com/recipes/1017161-oven-roasted-chicken-shawarma
Recipe courtesy of Sam Sifton and the New York Times. Photo courtesy of Michael Kraus for The New York Times.