Noodle Bowl With Mushrooms, Spinach and Salmon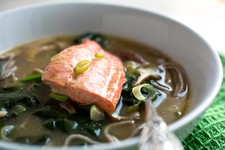 Recipe Date:
August 26, 2020
Measurements:
Imperial (US)
Ingredients
6 cups kombu stock, chicken stock or vegetable stock
soy sauce or salt to taste
6 ozs japanese soba noodles, cooked and tossed with 2 teaspoons sesame oil
6 fresh shiitake mushrooms, stemmed and thinly sliced (simmer stems in stock for 20 minutes, remove them and discard), or 6 cremini mushrooms, trimmed and thinly sliced
12 to 16 ounces salmon fillet without skin, trimmed of fat and cut into 4 equal pieces
1 large bunch spinach, stemmed, washed in 2 changes of water and coarsely chopped (about 6 cups) or
1 bunch scallions, thinly sliced, light and dark green parts kept separate Cilantro leaves and sprigs for garnish
Directions
Tasting notes: Salmon and mushrooms are delicious with Pinot noir and then when you add noodles, it's a perfect comfort bowl of food! And this was a fun take on classic pairings of mushroom and salmon with Pinot noir.
Serena's tips: We substitute ramen noodles for the soba noodles and add some red pepper flakes for some kick.
Recipe:
Website link
Website address: https://cooking.nytimes.com/recipes/1014778-noodle-bowl-with-mushrooms-spinach-and-salmon
Recipe courtesy of Martha Rose Schulman and the New York Times. Photo courtesy of Andrew Scrivani for The New York Times.