Mushroom-Stuffed Brie en Croute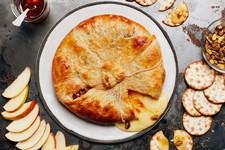 Recipe Date:
April 4, 2016
Measurements:
Imperial (US)
Ingredients
1 onion, small
1/2 lb mushrooms
2 tbsps unsalted butter
1 tbsp dry sherry
1/2 tsp freshly grated nutmeg
17 1/4 ozs frozen puff pastry package
14 ozs wheel of Brie
1 large egg
Directions
Tasting notes: Mushrooms and Pinot always go well together and the richness of the Brie compliments the old world style of the Bucher Pinot.
Serena's tips: If the mushroom mixture seems a bit to wet, put it in a strainer and let some of the liquid drain out.
Recipe:
Website link
Website address: www.epicurious.com/recipes/food/views/mushroom-stuffed-brie-en-croute-15732
Recipe courtesy of Gourmet, November 2007 via www.epicurious.com. Photo by Chelsea Kyle, Food Styling by Katherine Sacks.