Mushroom Soup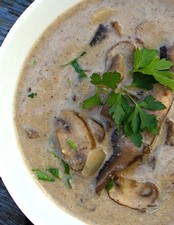 Recipe Date:
September 1, 2015
Measurements:
Imperial (US)
Ingredients
6 tbsps Butter
1 Small Onion, thinly sliced
12 ozs Button Mushrooms (you can buy them presliced to make it even easier)
4 cups Light Chicken Stock (or vegetable stock)
1 Sprig Flat Leaf Parsley
Salt, to taste
Pepper, to taste
2 ozs Sherry (use high quality, not cooking sherry)
Directions
Pairing Notes: A wonderfully rich soup (without cream!) and the mushroom flavors make the cherry notes and the earthy elements of the Floodgate Pinot sing.
Chef's Tip: Feel free to substitute a few wild mushrooms for some of the button mushrooms, and/or add a drizzle of truffle oil to kick this up a notch.
Recipe courtesy of Anthony Bourdain, Les Halles Cookbook, via epicurious.com.
Photo courtesy of Leslie Styles, scrumpdillyicious.blogspot.com