Mushroom Ragoût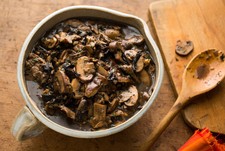 Recipe Date:
August 26, 2020
Measurements:
Imperial (US)
Ingredients
1 oz (about 1 cup) dried mushrooms, preferably porcinis
2 tbsps extra virgin olive oil
2 shallots or 1/2 medium onion, finely chopped
2 garlic cloves, minced
1 lb white or cremini mushrooms, cleaned, trimmed, and quartered or sliced 1/2 inch thick
1 lb wild mushrooms, trimmed and brushed clean, or oyster mushrooms, trimmed and torn into pieces if very large
salt to taste
2 tsps all-purpose flour
1/2 cup dry white wine such as sauvignon blanc or pinot grigio
2 tsps chopped fresh rosemary or 1 teaspoon dried
2 tsps chopped fresh thyme
freshly ground pepper
2 to 4 tablespoons finely chopped flat-leaf parsley
Directions
Tasting notes: Mushrooms and Pinot noit, truly a match made in food heaven.
Serena's tips: We made it two days before we ate it treating it like a ratatouille and then served it over polenta. Also you might want to increase the amount of herbs you put in but that is subject to your own taste.
Recipe:
Website link
Website address: https://cooking.nytimes.com/recipes/1015828-mushroom-ragout
Recipe courtesy of Martha Rose Schulman and the New York Times. Photo courtesy of Andrew Scrivani for The New York Times