Miso-Maple Salmon with Baby Bok Choy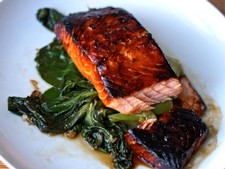 Recipe Date:
March 7, 2017
Measurements:
Imperial (US)
Ingredients
1/4 cup white miso
1/4 cup real maple syrup
2 tbsps honey
2 tbsps soy sauce
4 tbsps roasted sesame oil
2 tbsps peeled and diced fresh ginger
1/4 cup orange juice
2 tsps orange zest
1 tbsp canola oil
3 lbs fresh boneless salmon, skin on
6 baby bok choy heads, halved lengthwise
1 tsp kosher salt
4 chopped green onions, green parts only for garnish
1 tsp mixed black and white sesame seeds for garnish
Directions
Tasting notes: We love salmon with Pinot Noir and the addition of the miso-maple glaze highlights the earthy aromatics of our Pinots.
Serena's tips: Use fresh squeezed orange juice if possible, it makes a difference in the brightness of the dish. We use this recipe as a small plate appetizer or as dinner for 6 people.
Recipe: Miso-Maple Salmon with Baby Bok Choy, Chowgirls Killer Party Food, copyright 2016
Miso-Maple Glaze
In a small saucepan on medium heat, melt the miso, syrup and honey. When bubbling, add soy sauce, sesame oil, ginger and orange juice and bring back to a boil. Continue to cook for 3 - 4 minutes, until mixture forms a glaze. Remove from heat and stir in orange zest. Set aside to cool.
Salmon
Pre-heat a gas or charcoal grill to medium-high and brush grate with canola oil or pre-heat broiler to 525 degrees F. Pat salmon dry, brush with 1 tbsp sesame oil, and season lightly with salt and pepper. Using a basting brush, lightly apply glaze to skinless side of salmon. Arrange salmon on grate, skin-side down. Cover grill and cook for about 15 minutes, basting with more sauce until salmon is firm in middle and opaque on sides. Remove from grill and keep warm. Reduce grill to medium-low heat. If broiling, place salmon skin-side down on preheated baking sheet. Place 2-4 inches from flame and broil for 5-6 minutes.
Bok Choy
Brush 1 tbsp sesame oil onto bok choy, sprinkle with salt and place on grill. Cook, turning occassionally for about 3 minutes each side or until lightly charred and softened.
Cut salmon into equal portions, plate and add bok choy to each serving. Garnish with chopped green onions and sesame seeds
Makes about 12 appetizers or 6 dinner servings
Photo courtesy of Serious Eats http://www.seriouseats.com/recipes/2010/11/dinner-tonight-broiled-honey-soy-teriyaki-salmon-with-boy-choy-recipe.html
Our recipe pairings for the spring 2017 release are all coming from Chowgirls Killer Party Food, the best-selling cookbook written by good friends of ours from Minnesota. Chowgirls has been catering Cartograph's Minnesota spring release parties since our debut, and chef Heidi Andermack has been friends with Alan since his days at Minnesota Public Radio.