Mint Crusted Lamb Chops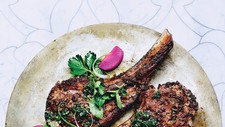 Recipe Date:
August 1, 2017
Measurements:
Imperial (US)
Ingredients
2 tbsps diced shallots
2 small garlic cloves
1/2 cup fresh mint, plus more for garnish
2 tbsps olive oil
2 tsps salt
1 tsp freshly ground black pepper
10 lamb shoulder chops, rinsed and drained
1 large lemon wedge
Directions
Tasting notes: Lamb and Pinot Noir is a classic pairing and the addition of the mint puree adds a brightness that echoes the savory elements in the Starscape Pinot.
Serena's tips: Don't put too much of the mint puree on your lamb chops otherwise you'll hide the delicate taste of the Pinot and the lamb.
Recipe: Mint-Crusted Lamb Chops, Chowgirls Killer Party Food, copyright 2016
Light charcoal of gas grill, close lid, and heat to about 400°F. If using a broiler, heat to 525°F and preheat a cast-iron frying pan.
In the bowl of a food processor, combine shallots, garlic, mint, olive oil, salt, and pepper and process until very smooth. Set aside half for garnish.
Place lamb chops on a baking sheet. Use a brush to baste tops, bottoms, and sides with half the mint purée.
Grill chops 3-4 minutes per side, until well marked and cooked to medium-rare. If broiling, place chops in preheated frying pan and broil, 2-3 in from flame for 5-6 minutes per side. Set aside on a plate and cover with aluminum foil for about 5 minutes.
When ready to serve, sqeeze lemon wedge over lamb chops, drizzling juice evenly. Garnish with reserved mint purée.
Makes 10 lamb chops.
Photo courtesy of Bon Appetit, http://www.bonappetit.com/recipe/mint-cumin-spiced-lamb-chops
Our recipe pairings for the fall 2017 release are from Chowgirls Killer Party Food, the best-selling cookbook written by good friends of ours from Minnesota. Chowgirls has been catering Cartograph's Minnesota spring release parties since our debut, and chef Heidi Andermack has been friends with Alan since his days at Minnesota Public Radio.