Mini Chicken Pies with Bacon and Marjoram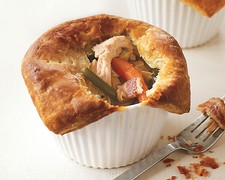 Recipe Date:
September 1, 2015
Measurements:
Imperial (US)
Ingredients
5 bacon slices (preferably applewood-smoked)
1 1/2 cups onion, chopped
12 ozs whole baby carrots, peeled (about 2 1/2 cups)
1 8 oz bag haricots verts (or other slender green beans), trimmed and halved lengthwise
4 tsps fresh marjoram, chopped
1 3/4 cups low sodium chicken broth
2/3 cup crème fraiche (plus 1 additional tbsp)
3 cups chicken, coarsely shredded (from 1 small roasted chicken, skin removed)
1 frozen puff pastry sheet (half of a 17.3 oz package), thawed
Directions
Tasting notes: We reduce the bacon and marjoram so they compliment versus overwhelm the Choate Pinot noir.
Serena's tips: Because time (and ease) is of the essence during harvest, we purchase an already roasted chicken. We reduce the bacon to 2 slices and decrease the marjoram to 2 teaspoons otherwise the flavors are overwhelming. Because the creme fraiche comes in a 10 oz container, we use the whole thing.
Recipe:
Website link
Website address: https://www.epicurious.com/recipes/food/views/mini-chicken-pot-pies-with-bacon-and-marjoram-240130
Recipe courtesy of the Bon Appétit Test Kitchen, Bon Appétit October 2007. Photo courtesy of Tina Rupp.