Middle Eastern Inspired Herb and Garlic Chicken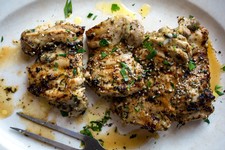 Recipe Date:
April 1, 2023
Measurements:
Imperial (US)
Ingredients
6 boneless, skinless chicken thighs
6 garlic cloves, grated or minced
juice and zest of 2 lemons
3 tbsps extra-virgin olive oil
2 tbsps minced, fresh parsley
2 tbsps minced fresh mint
2 tbsps minced fresh thyme
1 tbsp minced fresh oregano
1 1/2 tsps kosher salt
1 tbsp sesame seeds
3/4 tsp sumac
2/3 cup plain greek yogurt
1/4 tsp black pepper
Directions
Tasting Notes: We love how the herbs and spices contrast the earthy dark fruit elements of the Transverse Pinot.
Serena's Tips: We marinate this for 24 hours just to let the flavors really permeate the chicken thighs.
Recipe:
Website link
Website address: https://cooking.nytimes.com/recipes/1018244-middle-eastern-inspired-herb-and-garlic-chicken
Recipe courtesy of Melissa Clark for the New York Times. Photo courtesy of Andrew Scrivani for the New York Times.