Marinated Chevre, Three Ways: With Wild Mushrooms & Orange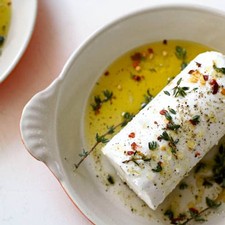 Recipe Date:
March 8, 2017
Measurements:
Imperial (US)
Ingredients
1/4 cup olive oil
1 garlic clove, minced
1 small shallot, minced
4 ozs cremini, porcini, shiitake, chanterelle, or other mushroom
1 tsp kosher salt
1/4 freshly ground black pepper
2 tsps finely minced orange zest
4 ozs chevre
Directions
Tasting notes: Wild mushrooms combined with the bright orange zest echo the earthiness and the bright fruit in the 2013 Transverse Pinot Noir.
Serena's tips: The hardest part of this recipe is how to serve it - as individual plates, a log of goat cheese, on bread, in an endive? So many options! We did decrease the fresh orange to 1 tsp because we used oranges that we pulled off the tree in the Cartograph Garden so the flavor was intense.
Recipe: Marinated Chevre, Three Ways: With Wild Mushrooms & Orange, Chowgirls Killer Party Food, copyright 2016
In a large frying pan, heat olive oil on medium-low. Add garlic and shallots and sauté for 1 minute. Increase heat to high, add mushrooms, salt, and pepper. Cook, stirring continuously, for 3-5 minutes or until garlic is lightly toasted and mushrooms start to crisp. Remove from heat and drain oil into a small bowl or ramekin, then stir orange zest into oil.
Shape chevre into a disc about 1.5in thick, and smooth top and sides with a spreader or butter knife.
In a shallow bowl, place half the mushroom mixture. Top with disk of chevre. Add remainder of mushroom mixture, then drizzle with orange zest oil. Cober and refigerate for at least 2 hours or up to 1 week.
Makes 12 servings.
Photo courtesy of: https://umamigirl.com/win-win/
Our recipe pairings for the spring 2017 release are from Chowgirls Killer Party Food, the best-selling cookbook written by good friends of ours from Minnesota. Chowgirls has been catering Cartograph's Minnesota spring release parties since our debut, and chef Heidi Andermack has been friends with Alan since his days at Minnesota Public Radio.