Maple and Miso Sheet-Pan Salmon With Green Beans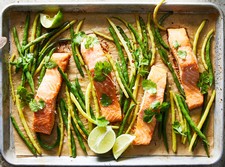 Recipe Date:
August 26, 2020
Measurements:
Imperial (US)
Ingredients
4 (6-ounce) skin-on salmon fillets, about 1-inch thick
kosher salt
freshly ground black pepper
4 tsps maple syrup
1 tbsp white or brown miso
1 tbsp rice wine vinegar
2 tsps soy sauce
1 garlic clove, grated
1 lb green beans, trimmed
2 tbsps olive oil
pinch of red-pepper flakes (optional)
1/4 tsp toasted sesame oil (optional)
1/4 cup roughly chopped cilantro, both leaves and tender stems
lime wedges, for serving
faky sea salt, for serving (optional)
cooked white rice, for serving (optional)
Directions
Tasting notes: Salmon and Pinot noir are classic together and maple and miso add a great level of umami!
Serena's tips: We parboil or blanch the green beans before cooking them so they are tender and when we don't have green beans, we substitute broccoli.
Recipe:
Website link
Website address: https://cooking.nytimes.com/recipes/1019857-maple-and-miso-sheet-pan-salmon-with-green-beans
Recipe courtesy of Colu Henry and the New York Times. Photo courtesy of Julia Gartland for The New York Times. Food Stylist: Ali Slagle.