Mango Chicken Salad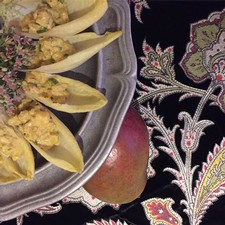 Recipe Date:
March 8, 2017
Measurements:
Imperial (US)
Ingredients
4 Boneless, skinless chicken breasts
2 tsps Olive oil
1 tsp Kosher salt
1/2 tsp Freshly ground pepper
1 Mango, peeled, pitted, and diced
1/2 cup Sliced almonds
4 Green onions, white and green parts chopped
1/4 cup Chopped fresh cilantro
3/4 cup Mayonnaise
1/2 cup Greek yogurt
3 tbsps Mango chutney
2 tsps Dijon mustard
1 tsp Minced garlic
2 tsps Minced fresh ginger
1 1/2 tsps Mild curry powder
2 tsps Soy sauce
2 tsps Lime juice
1/2 tsp Siracha sauce (optional)
1 tsp Kosher salt
1/2 tsp Freshly ground black pepper
Directions
Pairing notes: The fresh mango compliments the Ferrington Gewürztraminer's tropical aromas while the spicy dressing contrasts in a good way with the flavors on the palate.
Serena's tip: Make sure to dice the mango into a small dice. If you are short on time, grab a rotisserie chicken from the store and some washed salad and it becomes a quick and easy dinner.
Recipe: Mango Chicken Salad, Chowgirls Killer Party Food, copyright 2016
Preheat oven to 350 degrees F.
Rinse and dry chicken breats, then brush both sides with olive oil. Sprinkle with salt and pepper and place on a large baking sheet. Bake for 25 - 30 minutes or until cooked through. Remove from baking sheet and let cool. WHen cooled, coarsly chop chikcen and place in a medium bowl. Add mango, almonds, green onions and cilantro and toss well.
To make dressing ,mix all ingredients in a medium bowl and stir until well combined. Pour dressing over chicken and stir until fully incorporated.
Makes about 1 quart.
Fills 16 mini croissants, or 32 endive leaves.
Photo courtesy of: http://pinchofyum.com/mango-chicken-salad-sandwich
Our recipe pairings for the spring 2017 release are all coming from Chowgirls Killer Party Food, the best-selling cookbook written by good friends of ours from Minnesota. Chowgirls has been catering Cartograph's Minnesota spring release parties since our debut, and chef Heidi Andermack has been friends with Alan since his days at Minnesota Public Radio.