Lemon and Thyme Grilled Chicken Breasts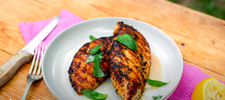 Recipe Date:
March 16, 2022
Measurements:
Imperial (US)
Ingredients
4 (6-ounce) boneless, skinless chicken breasts
1 1/2 tsps kosher salt
1 black pepper
2 tbsps chopped thyme leaves
4 garlic cloves, crushed and peeled
2 lemons, as needed
2 tbsps extra-virgin olive oil, more as needed
torn basil or mint leaves, as needed
Directions
Tasting notes: The herb and lemon seasonings compliment the pretty red fruit in the Transverse Pinot.
Serena's tips: You can substitute boneless, skinless thighs for the chicken breasts. We marinade the chicken for up to 8 hours and the chicken comes out super juicy!
Recipe:
Website link
Website address: https://cooking.nytimes.com/recipes/1017485-lemon-and-thyme-grilled-chicken-breasts
Recipe courtesy of Melissa Clark for the New York Times. Photo courtesy of Andrew Scrivani for The New York Times.