Herbed White Bean and Sausage Stew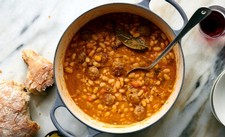 Recipe Date:
August 26, 2020
Measurements:
Imperial (US)
Ingredients
2 tbsps extra-virgin olive oil, plus more for serving
1 sweet italian sausage, sliced 3/4-inch thick
1 tbsp tomato paste
1/2 tsp ground cumin
2 medium carrots, finely diced
2 celery stalks, finely diced
1 onion, chopped
2 garlic cloves, finely chopped
1 lb dried great northern beans, rinsed and picked through
2 tsps kosher salt, or to taste
2 thyme sprigs
1 large rosemary sprig
1 bay leaf
2 tsps balsamic vinegar, plus more for serving
1/2 tsp black pepper, plus more to taste
Directions
Tasting notes: This just sounded like such a delicious dish for Fall and we always have dried white beans on hand since we grow them at the vineyard so it made sense to us to make this and pair it with Pinot.
Serena's tips: We recommend chopping the rosemary and inceasing the balsamic vinegar (we doubled it). You can also make it in a slow cooker which is useful when you are headed out the door to work.
Recipe:
Website link
Website address: https://cooking.nytimes.com/recipes/1013327-herbed-white-bean-and-sausage-stew
Recipe courtesy of Melissa Clark and the New York Times. Photo courtesy of David Malosh for The New York Times. Food Stylist: Simon Andrews