Herb-crusted Rack of Lamb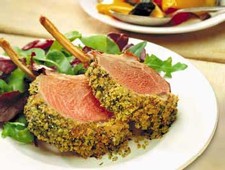 Recipe Date:
April 4, 2016
Measurements:
Imperial (US)
Ingredients
1 garlic clove, large
1/2 cup basil, fresh, chopped
1/3 cup pecorino romano or parmigiano cheese
1/3 cup plain dry breadcumbs
1/2 tbsp herbes of provence (recipe calls for 2 tbsp but it is overwhelming)
1 1/2 tbsps dijon mustard
2 1/2 tbsps olive oil
1 1/2 lbs rack of lamb, trimmed
Directions
Tasting notes: Grilled lamb plays to the savory, meaty elements of the our Pinots.
Serena's tips: Leave the rack of lamb out at room temperature for 45 minutes to let the flavors of the breadcrumb mixture penetrate. We alternate between roasting and grilling, both ways work well but you should trim the excess fat off with either method. If roasting, throw the broiler on at the end for 2 minutes to crisp up the outside.
Recipe:
Website link
Website address: www.epicurious.com/recipes/food/views/herb-crusted-rack-of-lamb-107704
Recipe courtesy of www.epicurious.com. Photo courtesy of www.recipehubs.com.