Herb Roasted Lamb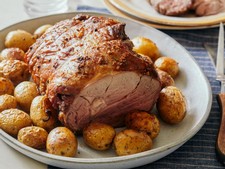 Recipe Date:
March 26, 2022
Measurements:
Imperial (US)
Ingredients
12 garlic cloves, large
1 tbsp chopped rosemary
kosher salt
ground pepper
2 tbsps unsalted butter
1 boneless leg of lamb,6 lbs
5 lbs potatoes, small
2 tbsps olive oil
Directions
Tasting notes: Lamb and Pinot have always been a perfect pairing!
Serena's tips: We put the garlic through a garlic presss then add it to the food processor, it does a better job of mincing the garlic that way.
Recipe:
Website link
Website address: https://www.foodnetwork.com/recipes/ina-garten/herb-roasted-lamb-recipe-1943577
Photo and recipe courtesy of the Food Network.