Grilled Tuna Salade Niçoise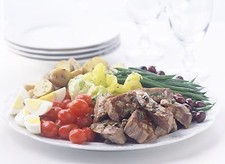 Recipe Date:
September 2, 2016
Measurements:
Imperial (US)
Ingredients
3/4 lb green beans (preferably Haricots Verts), trimmed
1 1/2 lbs small potatoes (preferably Yukon Gold)
1 1/2 lbs tuna steaks (1 inch thick)
vegetable oil for brushing
1/4 cup capers, drained
3/4 lb boston lettuce (2 heads) leaves separated and large leaves torn into bite size pieces
1 (1 pint) cherry or grape tomatoes
2/3 cup niçoise or other small brine-cured black olives
4 hard-boiled eggs, quartered
1 tbsp fresh parsley and/or basil, chopped
1/4 cup red-wine vinegar
2 1/2 tbsps shallot, minced
2 tsps dijon mustard
1 garlic clove
1/2 tsp anchovy paste
1 cup olive oil
1 1/2 tsps fresh thyme
1 1/2 tsps fresh basil
Directions
Tasting notes: This salad has so many great flavors that compliment the Riesling and bring out the citrus and honey notes.
Serena's Tips: I do a portion of the prep the day before - make the dressing and cook the potatoes and green beans. With the salad dressing, I use less oil then the recipe calls for and reduce the fresh herbs but that is a matter of personal taste.
Recipe:
Website link
Website address: https://www.epicurious.com/recipes/food/views/grilled-tuna-salade-nicoise-108337
Recipe courtesy of Epicurious Gourmet July 2003. Photo courtesy of Epicurious.