Grilled Scallops with Peaches, Corn, and Tomatoes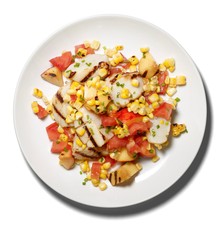 Recipe Date:
April 1, 2023
Measurements:
Imperial (US)
Ingredients
olive oil, as needed
2 ears of corn
2 peaches, halved and pitted
salt and pepper, to taste
8 scallops (large)
1 cup chopped tomatoes
chopped parsley, basil, or chives
Directions
Tasting Notes: The sweetness of the grilled corn and peach play really well with the acidity of the tomato and the fruit elements of the Rosé bring it into balance. The fleshiness of the scallop provides a great textural contrast to all the bright flavors.
Serena's Tips: In spring and summer we use onyl basil with this as it is growing in the garden and is so bright and you don't need the other herbs.
Recipe:
Website link
Website address: https://cooking.nytimes.com/recipes/1014821-grilled-scallops-with-peaches-corn-and-tomatoes
Recipe courtesy of Mark Bittman of the New York Times. Photo courtesy of Sam Kaplan for the New York Times.