Grilled Pork Tenderloin with Fresh Fig Skewers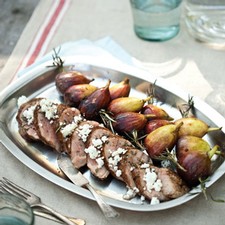 Recipe Date:
September 13, 2014
Measurements:
Imperial (US)
Ingredients
1 1/4 lbs pork tenderloin
2 tbsps olive oil
4 rosemary branches, or wooden skewers, soaked in water
12 small ripe figs
4 ozs goat cheese
2 tsps honey
1 1/2 tsps rosemary, chopped
salt
pepper
Directions
Tasting notes: The pork and rosemary capture the earthiness of the Floodgate Pinot while the fig evokes the dark, rich, red fruit. The goat cheese adds a nice tangy element.
Serena's tips: When fresh figs are in season, there's no need to add the honey. The fresh rosemary is intense, so you may want to adjust the amount to suit your palate.
Recipe:
Website link
Website address: https://www.epicurious.com/recipes/food/views/grilled-pork-tenderloin-with-fresh-fig-skewers-395329
Recipe courtesy of Karen Adler and Judith Fertig from The Gardener & The Grill, via Epicurious.com, Grilled Pork Tenderloin with Fresh Fig Skewers. Photo by Steve Legato.