Grilled Pork Chops with Cherry Sauce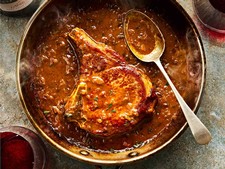 Recipe Date:
April 1, 2023
Measurements:
Imperial (US)
Ingredients
4 pork loin chops, bone-in
1 tbsp minced fresh rosemary
1 tsp salt
1 tsp ground black pepper
1 tsp finely minced garlic
3 tbsps butter
1 tbsp minced shallot
1 cup cherries, stemmed, pitted, and halved
1/2 cup fruity red wine
Directions
Tasting Notes: Pork and cherries are always a beautful pairing and then when you add the bright fruit and lush finish of a Pinot = perfection.
Serena's Tips: Make the cherry sauce in advance to get the cherries to soak up the flavors. We cooked the pork to an internal temperature of 160 degrees as 135 degrees seemed to low.
Recipe:
Website link
Website address: https://cooking.nytimes.com/recipes/1016586-grilled-pork-chops-with-cherry-sauce
Recipe courtesy of Mark Bittman for the New York Times. Photo courtesy of Sam Kaplan for the New York Times.