Grilled Pomegranate-Glazed Chicken with Tomato Salad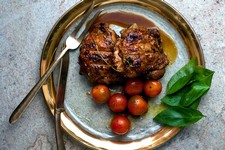 Recipe Date:
April 1, 2023
Measurements:
Imperial (US)
Ingredients
2 tsps ground cumin
kosher salt
1 tsp sweet paprika
1/2 tsp ground allspice
black pepper
large pinch of cayenne pepper
3 lbs bone-in, skin-on chicken thighs (about 8)
4 tbsps extra virgin olive oil
10 thyme branches
7 large garlic cloves, finely chopped
2 tbsps pomegranate molasses
1 pint cherry tomatoes
10 large basil leaves, torn into pieces
Directions
Tasting Notes: Pomegranate is such a fun pairing with a bright young Pinot like the Estate 777 Clone.
Serena's Tips: Skip the tomato salad and do roasted potatoes or serve over a bed of spinach instead.
Recipe:
Website link
Website address: https://cooking.nytimes.com/recipes/1013738-grilled-pomegranate-glazed-chicken-with-tomato-salad
Recipe courtesy of Melissa Clark for the New York Times. Photo courtesy of Andrew Scrivani for the New York Times.