Grilled Eggplant Parmigiana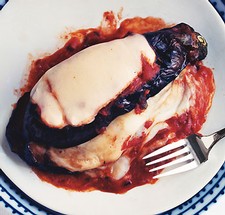 Recipe Date:
September 13, 2014
Measurements:
Imperial (US)
Ingredients
1/4 cup Olive Oil
1/4 tsp Red Pepper Flakes, Dried
15 ozs Crushed Tomatoes
1/2 tsp Salt
1/4 cup Fresh Basil, Chopped
1/4 cup Parmigiano-Reggiano
2 Garlic Cloves
4 Small Italian Eggplants, roughly .5 Lbs Each
1 lb Mozzarella
Directions
Pairing Notes: With their high acidity and tart flavor, tomatoes aren't the easiest food to pair with wine—but Cartograph's Sangiovese has notes of sun-dried tomatoes, which are a perfect complement to the rich mozzarella and earthy eggplant.
Chef's Tip: Selecting eggplant can be a challenging task. Try to shop for small eggplants with smooth, shiny skin and no blemishes, cuts or wrinkles. For Alan's tomato sauce recipe for this dish, click on the recipe found at "2012 Upton Vineyard Sangiovese Tomato Sauce for the Eggplant Parmigiana".
Recipe and photo courtesy of Romulo Yanes, both via Epicurious.com, Grilled Eggplant Parmigiana.